Best Synthetic Grass Installation Services in Orlando, FL

Synthetic grass is made up of synthetic and man-made fibers. This appears like natural grass but is much safer. Its field of application is schools, nurseries, hotels, playgrounds, and exhibitions. Natural grass requires 55 gallons of water per square foot per year. On the other hand, artificial/synthetic grass doesn't require any water, which further reduces the expense of the owner. Orlando Safety Surfacing will provide you with the best work and will always work as per your conditions. Our company has a very hardworking and focused team which will try to give you the best results.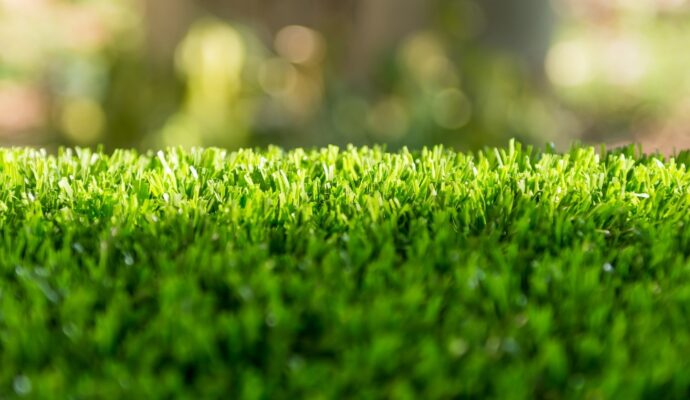 What is Synthetic Grass?
Synthetic grass is mainly made up of three main materials: Polyethylene, which is harmless and gentle to the skin and makes synthetic grass durable; polypropylene, which is harsh but long-lasting; and Nylon, which is strong and highly used for making mats because of its high burn tolerance. Synthetic grass blades come in many different heights, and they are made up of polyethylene which is popularly used for making plastic bottles or bags. Usually, polyethylene comes in a solid shape but is melted and mixed with colors to make synthetic grass. Likewise, polypropylene is used to make the thatch layer which further makes it softer and serves its purpose of providing a safe environment for playing.
You should always choose a good quality of synthetic grass. Your product must contain polyurethane instead of latex. The most important feature of synthetic grass is that it always remains green all year around. So, your product should be UV resistant so that it should not turn brown or white during the year like natural grass. Its the most important that it should be safe for children to prevent them from injuries or any type of infections.
Orlando Safety Surfacing will always offer you a good quality of products, so you don't have to care about the quality if you are taking services from our company.
Different types of Synthetic Grass  
Synthetic grass is divided into various types on the basis of the materials used, pile heights, colors, and places where it is used.
Materials used:
Nylon: This is one of the strongest materials amongst other materials. This can resist high temperatures and is very strong and durable. This has a high burn tolerance but has one drawback: it is costly, so it is mainly used in backyards or landscaping.
Polypropylene: This suit best for indoors or as a decoration for your home. This is the least expensive but is as well the least durable. This wears out quickly due to its fine texture.
Polyethylene: This is pet-friendly. It is mainly used in athletics fields like soccer, baseball, and football. This is nonporous and doesn't retain odors. This is less durable than nylon material.
Places where it is used:
Playgrounds: This is mostly used in playgrounds because it is safe for children and provides a cushion-like surface for walking or playing. It is ADA compliant, which means this is safe for persons with physical disabilities. This is free from chemicals and is healthy for children.
Sports events: This is widely used in sports events and is safe for the players, preventing serious injuries. The players can play without any worry as well as this remains green all year round and give an aesthetic appeal to the eyes.
Golfing: It can resist any type of weather, and it can be used in indoor and outdoor golf fields. It is glued to the ground with seam tape as it can be removed later if you want.
Balcony surface: This is used in balcony surfaces and is very easier to install. This is very easy to maintain and is soft as it is difficult to grow grass on the balcony, so artificial grass is the best-suited option.
Colors: This is available in various colors to give an aesthetic appeal throughout the year. The main colors available are green, blue, pink. Green is mostly used for playgrounds to give a seamless appearance all year round.
Why should you prefer Synthetic Grass?
Synthetic grass is highly durable and is easy to maintain. This can usually last up to 10 years, but if you follow a good maintenance plan, it can last up to twenty years easily. It doesn't wear or tear up with time as it is strong enough, and it remains green all year around.

Synthetic grass requires no irrigation. Synthetic grass doesn't grow or spread, so it doesn't need water or sunlight, further reducing your cost. This is safe for children as it is free from chemicals and doesn't even need pesticides or fertilizers for its growth. This protects people with sensitive skin and children from any allergy or infection.

This is eco–friendly and is safe for pets too. If your children are playing, you don't have to care about grass stains, unlike natural grass. Sometimes grass becomes dead due to lack of sunlight which causes bare spots, which may cause serious injury, but this is not the same in the case of synthetic grass as it remains green all year round, leaving no bare spots.

This prohibits the growth of weeds on the ground, further preventing any pests or insects. Moreover, it gives a beautiful green look all year round as it is UV resistant, so it doesn't turn brown or white, giving a dull appearance.

Synthetic grass is versatile as it can be used at many places like golf courses, lawns, football grounds, playgrounds, balconies, schools, hotels, and many more.

The cost of synthetic grass is very low as it cost $5-$20 per square foot as per your requirement. It's easy/simple to install and requires no maintenance after its installation, unlike the natural grass.

Synthetic grass is eco-friendly as it doesn't release any chemical emissions as natural.
Why choose us?
Orlando Safety Surfacing is one of the best companies and offers the best services. We will try to offer you our best deals and offers. Our employees work under a team of experienced professionals. We focus on our customer satisfaction. Our company offers many other services. So, if you have any problem or doubts regarding this don't hesitate to contact us on our helpline number.
Below is our list of additional services: