Orlando's Best Bonded Rubber Mulch Installation Services

Bonded rubber mulch is a safe and durable safety surfacing material that is used these days extensively. Bonded rubber mulch is a long-lasting and cost-effective choice for various places such as zoos, gyms, horse walking, training facilities, themed water parks, playgrounds, and community parks. People now realize that safety at playgrounds is a must and should not be ignored. Therefore, there are increased sales in a variety of surfacing materials. Orlando Safety Surfacing is a well-renowned organization that provides trustworthy material to the entire nation in a trouble-free manner.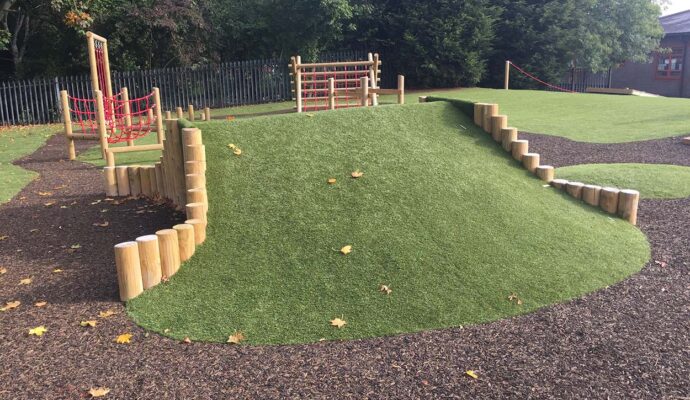 What is bonded rubber mulch?
This is a very environmentally friendly choice for safety surfacing. It is made from 100% recycled rubber shreds. The look provided by the application of bonded rubber mulch is quite attractive and versatile. Basically, it consists of recycled rubber tires in a tough PU polymer-colored pigment. Once cured, the pigments and coating are nontoxic and inert, which makes them a perfect fit for areas where children will play. One of the benefits is that mulch surfacing requires very little groundwork. It can be installed directly into grass or any existing surface.
Thus, the required budget is not too much, and you can save a good amount of money. It is the best solution for areas with excavation that can cause problems, such as dense areas with trees. The material provided by our organization has been tested, and it has been proved that it provides protection to children from falls and injuries. Professionals can easily do the installation of this rubber surfacing. It is not much of a task for them. It basically depends on the size of the playground to be surfaced; the professionals can finish installation in about a day.
Bonded rubber mulch requires about 6 inches of material to provide better protection and safeguard children from 10-foot height.
What is the warranty of bonded rubber mulch?
The warranty provided by us for the installed material is variable and depends on the material you choose. However, we have seen that our products have been set in place for over a decade. Our installers are skilled and have been working for decades.
The installation will be perfect, and you will not face any sort of issue. With minimum repair and maintenance, you can enjoy the benefits of safety surfacing at your playground. And for exact estimates, you can reach out to us now.
How much is the cost of bonded rubber mulch?
This protective rubber flooring is not so expensive and is a cost-effective choice for all. The price range is between $8 to $13 per square foot. The prices may vary with material and the depth of the surfacing.
Advantages of selecting this type of surfacing for playgrounds and other needed areas
There are certainly many benefits of installing it. Some of them are:
There is no prerequisite for foundations. It can be directly installed on grass.

It is ready for use after 24 hours of installation.

The surfacing is wheelchair-friendly, and all the demands of ADA certification are achieved.

The surface is very porous, and hence it allows the surface to play ready. 

The cost of material is not so high. It provides an affordable and seamless look to your area. 

It is unlikely for debris to get deposited on the surfacing. 

The material can be easily installed with traditional tools and smoothing agents, which are commonly available. 

The versatility of the safety surfacing material allows it to be used in indoor applications also. 

Natural color options such as forest green, hazel beige, and mahogany red are available that blend with the environment around them.

The rubber flooring is quick and easy to repair. You can simply cut the affected area and pour the material at the cut location.
Why choose Orlando Safety Surfacing for safety surfacing?
We are one-stop sales and installation experts in playground safety surfacing. The trainers and skilled experts in our organization are factory trained and fully certified. We present safety surfacing services in all 50 states of America. We have our consultants in all the states and major areas. The local presence of our organization makes a greater impact, and the customer is responsible. We can easily schedule your turn and provide hassle-free and convenient project coordination and warranty service.
Be it in the innovative design and production process, and we are adamant in providing the best and most highly rated services. The processes here are closely monitored and controlled to provide our clients with the best and most suited services. There are several important factors/pointers you must consider while choosing your safety surfacing organization:
Contact us now
If you are considering your playground and it needs surfacing, you can contact us anytime and get a meeting booked. Our consultants will deal with you most politely and humbly. We have a talented team of safety surfacing experts with the required skills and experienced to help you out. Get ready to gift your playground the awaited surfacing it needs.
Below is our list of additional services: