Orlando's Best Poured-In-Place Rubber Installation Services

If you're looking for the most durable and longest-lasting surfacing solution. Poured-in-place rubber flooring is the best option. Poured-in-place rubber surfacing for playgrounds and other outdoor spaces gives you the safety that you are looking for. Orlando Safety Surfacing is a firm that constructs and makes sure that you are getting the best for your loved ones. PIP rubber flooring is the most popular playground surfacing of any school or residential area. This type of rubber replaced the traditional flooring of walkable areas, warehouses, etc.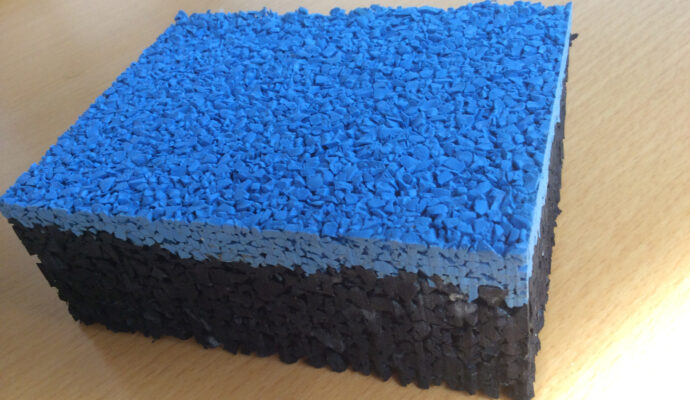 What is Poured-In-Place Rubber surfacing?
Poured-in-place rubber flooring is also known as Wet pour rubber flooring. It is used for safety purposes in playgrounds, parks, etc. Wet pour rubber surfacing consists of two layers:
Basement layer: It is made up of SBR (styrene-butadiene rubber) and polyurethane. The top layer comprising of recycled postindustrial EPDM (ethylene propylene diene monomer) rubber. They are the colorful granules that you see on most playgrounds. Both layers are consisting of recyclable material. The thickness of the base layer is about 10 inches. But it can be varied according to the customer's choice. The topmost layer can be colorful to attract children to play, walk, run, and perform other recreational activities.
This type of surfacing is a smart investment as it requires low maintenance. Top layer that is stretchy and more durable to weather as well as climate changes of the place. Its thickness is half of the basement layer. Raw materials are mixed and applied on the site, which makes it easy to provide logos and shapes permanently incorporated into the surface.
Which type of binding agent is used for the surfacing?
Rubber surfacing materials require binding agents that bind the materials together tightly to sure safety and durability. Two kinds of bonding agents are used in poured-in-place rubber flooring. These are:
Aromatic glue: This type of binder is generally used to bind the poured-in-place rubber as it's available at good prices in the market. It's capable of surviving through most of the climatic conditions. The only downside of this binder is that it does not work well to continuous water flow.
Aliphatic Binders: These glues retain constant water flow and do not fade away with exposure to sunlight. It is costly but clearer as compared to aromatic. Most of the customers use it in the wear or top layer that consists of lighter colors. It is a better option when we compare it with aromatic binders. It is long-lasting.
When you install poured-in-place rubber flooring, the easiest way to save some money in the long-time duration is regular maintenance. We have several playground maintenances and reform products. Our team members guide you to maintain the rubber surfacing properly. Our professionals also apply roll coats as preventive measures so that you cannot face any problems.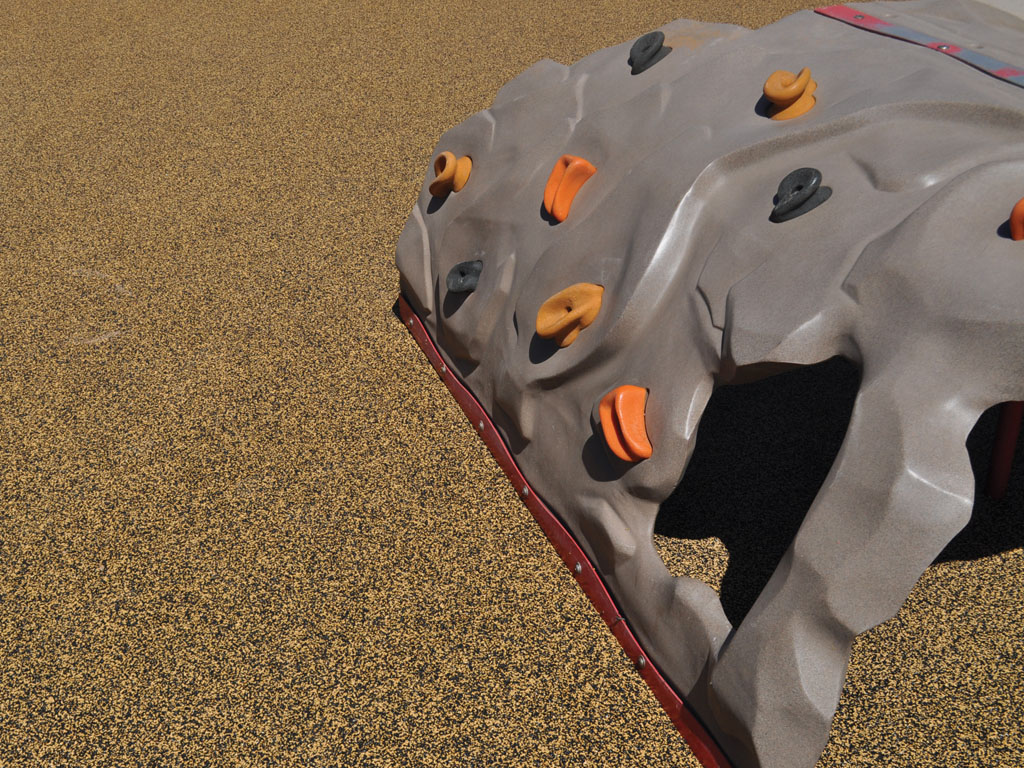 Is Poured- in-place rubber the best choice for playground flooring?
Safety is the main concern when anybody considers material for surfacing the playgrounds of schools, residential areas. Wet pour rubber fulfills all the requirements of safety that you want to install for performing recreational activities.
It is shock-absorbent.

It is the toughest rubber surfacing layer which is appropriate for recreational activities.

Less routine maintenance is required.

It can be customized onsite according to your type of equipment fall height.

Chemicals used in this flooring are environmentally- friendly that do not cause any harm or allergies to children when they play, run or perform recreational activities on it.

Budget is the main concern when doing any work. But in this case, it is affordable as it is made up of recycled rubber.

The surface of this poured- in place rubber is non-.

Slippery, that will make it more comfortable in the rain.

It looks attractive, bright, and fun colors gain the attention of the kids.
How much will this type of rubber surfacing cost you overall?
The cost of the rubber flooring varies with the increase in depth. The deeper you want to install rubber flooring; the cost will be higher. The average cost of poured-in-place rubber surfacing is about $10 to $15 per square foot. Choice of color, bonding agent can also alert the cost of installation. If you want to know exact quotes, feel free to contact us.
Some other services that we offer:  
We're well known for providing quality services of surfacing. A few of the flooring services that we are offering to our customers are given below:
Synthetic Grass

Synthetic Turf

Bonded Rubber Mulch

EPDM Rubber 

Safety Surfacing Services

Bonded Rubber

Rubber Tiles

And many more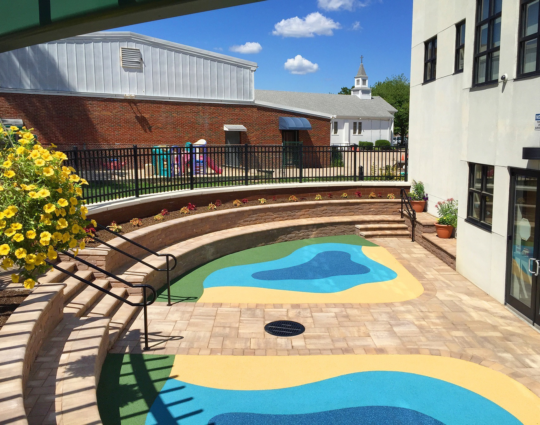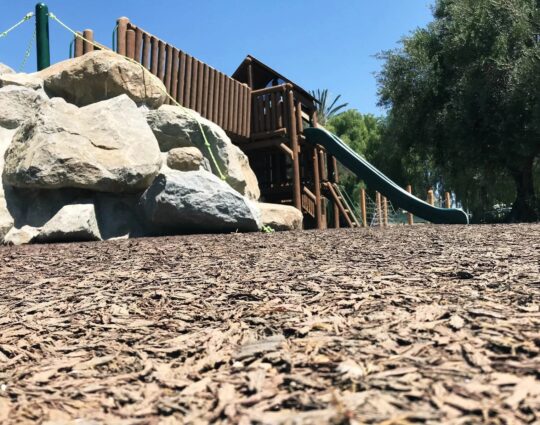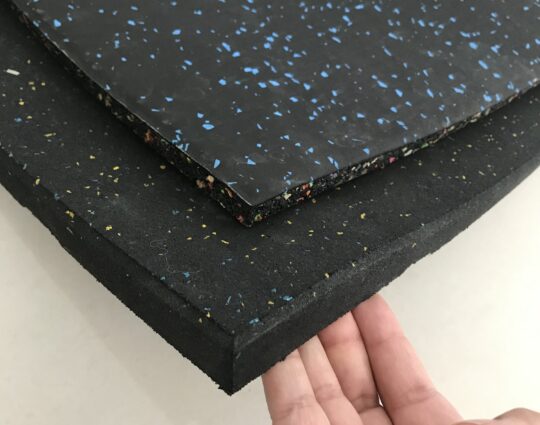 Why you choose Orlando Safety Surfacing? 
Orlando Safety Surfacing is a company that deals with all the worthy surfacing that are reasonable for price and quality. Our installation experts are working in a well-versed manner to fulfill all the needs of customers. We customize rubber flooring according to your choice of color, design. Our all-surfacing services are verified and certified. We are known for giving not only precise but also timely services to our customers. Our professionals will also help you choose the right kind of safety surfacing material if you're unable to. To learn more about our flooring services, to purchase an installation kit, contact us. We are happy to create your flooring space attractively and pleasingly.
Below is our list of additional services: